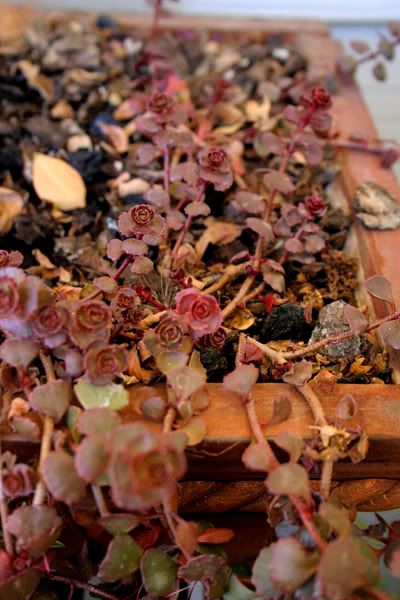 Dragons Blood Sedum
While I was gone on my trip to Portugal to see my parents, something grew on my balcony. I had waited months for my Dragons Blood Sedum to spread in the little corner of the weeping dwarf crape myrtle sacramento. It did grow but it took me a few days to even notice because...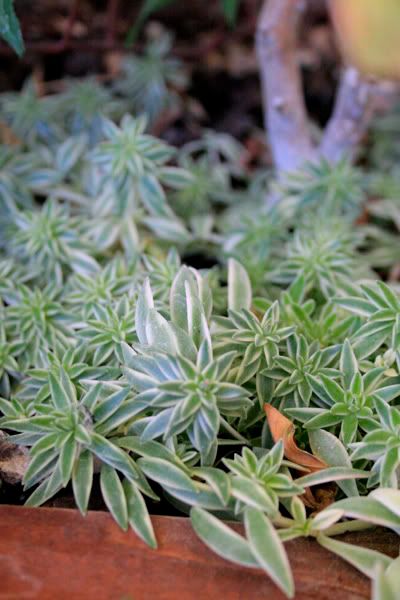 Variegated Carpet Sedum
When I came back it was not the Dragons Blood Sedum that I initially noticed but the Variegated Sedum. When I had left this sedum had spread but it was about 6 pieces standing 3 inches tall. Now it's spread everywhere and looks gorgeous. These started out as 3 cuttings that I "stole" from my last employer after they did cuttings of pots before sending them to the stores. Those 3 turned into six which turned into this! 3 of them died because i put them indoors and they just didn't make it. 3 of them went to a lucky raffle winner at the school hort club. Now I have all these.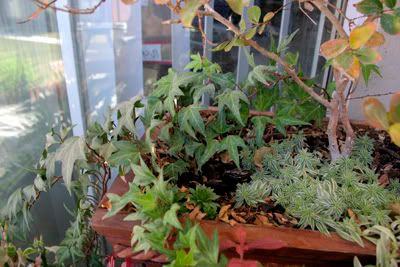 Containers with Ivy, Sedums and Jovibarba
Not only did I notice the Sedums but the IVY!!! I got this ivy as a little plantlet when I volunteered at the botanical gardens. We were ripping out some ivy that they no longer wanted under the palms. I took a tiny little one home with me. It hardly grew for a whole year. Yet when I come back this thing is taking over. It has now branched out behind the planter and infront of the planter. The initial leader is not about 4 feet long. I could not take an accurate photo but the leader in on the ground wrapped around some pots.
Isn't it crazy how you wait for so long to see your plants grow and think you are doing something wrong. When really they just want to grow out of your sight.