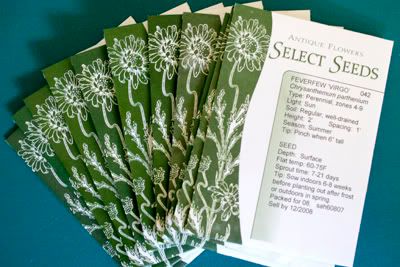 Seeds from Select Seeds
I've been on a seed buying craze these past few months. Whenever I see a site that has seeds on sale I just have to look and of course there are things I find that I just NEED. I just purchased seeds from
Select Seeds
from their clearance section. I thought I would need more annuals as I have mostly perennials and they just out grow the containers so fast. I made an effort to get more herbs and more annuals in different colors.
Here is what I purchased:
Feverfew 'Virgo'-chrysanthemum parthenium
Bronze Fennel 'Smokey'- Foeniculum vulgare
Salvia annual clary 'Blue Denim'- Salvia viridis
Castor Oil Bean 'Zanzibariensis Mix'- Ricinus communis
Love Lies Bleeding- Amaranthus caudatus
Calendula 'Pink Surprise'- Calendula officinalis
Jasmine Tobacco- Nicotiana alata
Love in a Mist 'Miss Jekyll Blue'- Nigella damascena
Cosmos 'White Sonata'- Cosmos bipinnatus
Larkspur 'Scarlet King'- Consolida ambigua
Shirley Poppy- Papaver rhoeas (Free with order)
I'm not sure if some of these will do well here but I might as well try. I have been wanting to get the Bronze Fennel after seeing it at the Botanical Gardens and the Love in a Mist has been on my must have list forever. I tried to pick colors that would look good together easily and some texture differences. I'm going to have to make a plan so that my balcony will look organized instead of looking like a plant bomb landing on it.