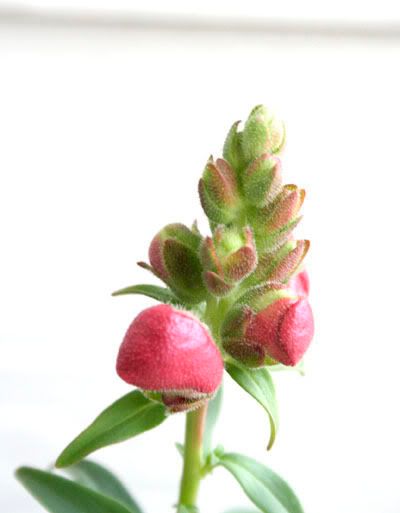 Buds on my Snapdragon
Today is my first garden blogger bloom day. I've never been able to participate because I never have any blooms. Carol at
Maydreamsgardens
is the wonderful person that created Bloom Day. Go visit her blog and see other bloggers who blogged today about their blooms.

My snapdragon getting ready to bloom.

Another bud on my Snapdragon
First I'll start with my Snapdragon. I have been awaiting these flowers since i purchased the plant in December i think. This snapdragon was bought as a small plant with one bud. It has grown and grown taller since then and produced another bud. Now I await for the blooming.

Purple/white Candytuft
This Candytuft I accidentally left after doing my cleaning out the candytufts from the planter. Now it is blooming! I love candytufts but have many seeds to try. They grow fast and with no trouble at all for me. It's not a problem if I want some back again I'll just plant more seeds. I do have some candytufts growing that were from the seeds of the last ones that bloomed. Nothing blooming yet though for those.

Knotweed Blooms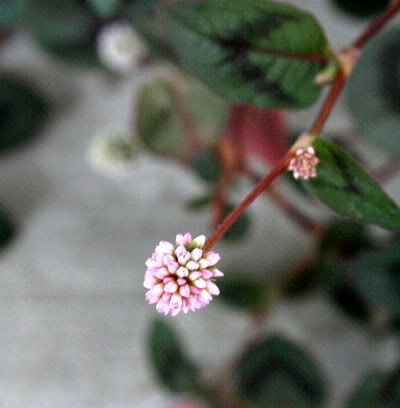 Pink Knotweed Flower
This was a plant that I got from an older women who allowed me to take cuttings from her over grown unkept yard. She didn't know what it was neither did I. My many searches resulted in nothing. Eventually the curiosity started to kill me so I asked on GardenWeb if anyone knew. Of course they did and responded with Knotweed. I really like this vine weed groundcover whatever it is. It has interesting leaves, grows and spreads nicely in and out of it's container, and has cute round blooms in white and pink.

Cocktail Vodka Begonia blooming

Cocktail Vodka Begonias in container blooming nicely
My last bloom are my Cocktail Vodka Begonias. I planted these in a larger pot last week I believe. They were in individual peat pots before and it was a pain to keep them watered right. I gave in and spent my money on some much needed bigger pots. They look great clumped together! I love these so much and see them everywhere around here. Their foliage is a nice change from the normal green on my balcony.