Corkscrew Vine
It seems I will never have luck with the Corkscrew Vine. I was so very happy with how my seedlings had grown compared to the other time I had tried. Now the leaves are turning pale and there are brown spots on them. I really need to learn more about plant illnesses so I can figure out what is wrong. At first I was thinking my Corkscrew Vine wasn't receive enough light being inside. I potted it in a bigger pot last week and the leaves have gotten pale. When I compare it to the other Corkscrew Vine I have growing their leaves are way to yellow. I'm still so very surprised my previous Corkscrew Vine plant lived through the short winter and whatever illness it had. Now I have my sick Corkscrew Vine outside for it to decide what it wants to do with it's self. Hopefully it will make a comeback like the other one did.

My other Corkscrew Vine. These were sick last year and completely lost all their leaves. I potted them in a new pot with more perlite to better aerate the soil. Now they are growing and looking rather healthy.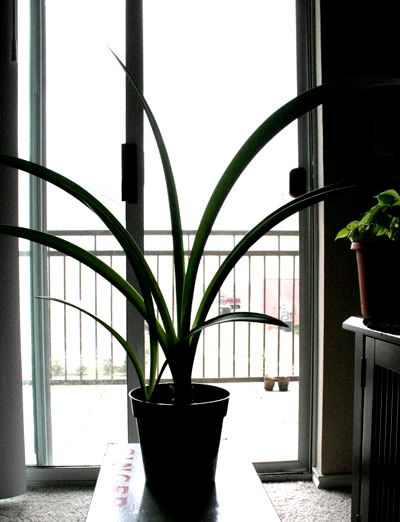 My Minerva Amaryllis still not blooming.
Now this isn't really a sick plant but just one that refuses to bloom for me. My Minerva Amaryllis I got and planted way back in November. Other bloggers have already had blooms and mine has not. All I have are leaves and a baby amaryllis that magically grew. It was quite for a while and nothing happened. Then last week a new leaf for both momma and baby appeared. But blooms where are they? I think I may be missing something that I'm supposed to do. Or my amaryllis just hates me and wants to be leaves with no flowers.