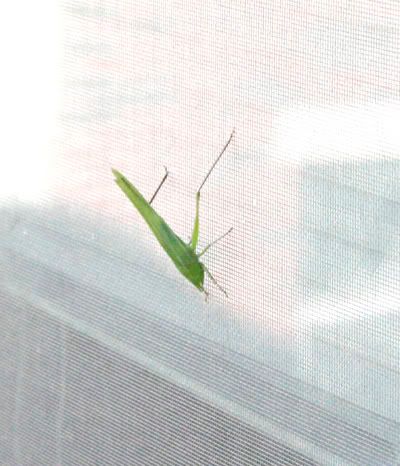 Good Morning Grasshopper!
Out on my balcony many things were out and already enjoying the day. I looked out at the sunny but windy day and saw the world awakening. Many of the plants around my apartment are growing already. There are tons of weeds in the grass that are multiplying fast. There is one weed I don't know the name of that I find rather pretty. It has interesting round leaves with a frilly edge. Then these little purple flowers come out but disappear quickly. I'm all for having naturalized native plants since my containers don't really allow them to spread as if I had a yard. The Evening Primrose is a weed here that I always look for on my morning walks. I don't see it as much as I used to.
Even though it was windy last night none of my plants tipped over like they usually do. I did the quick glance around and spotted the grasshopper on my window screen. Well good morning grasshopper. At least it will be a good morning if you don't fly at me! And it didn't, so it was a good morning. Large flying insects coming at me are not something I enjoy. I'm still getting used to the bees that like to get way to close for comfort. Now instead of giving a little squeal when a bee gets close to my head, I just stay there and wait it out hoping I don't get smacked in the eye.

Good Morning Grape Hyacinths!
Well after hoping that a grasshopper didn't fly at me I looked at my little seedlings. As I always do many times a day inspect the seedlings for any new growth. All those that are up are growing fast now. The fastest seedlings of them all are the sweet peas. They are just about 2 pushing on 3 inches tall. Yesterday I spotted my Parsley Big Mountain seeds growing. I had reseeded some of my seed flat since somethings were not popping up. Parsley was one that I reseeded a few seeds and they appeared the next day. Now I have around 4 parsley seedlings. I'm still wishing the Delphinium would pop up, but nothing. I reseeded some gazania and got a sprout about to pop out of the dirt. There was a gazania seedling before but something happened to it and it didn't make it for very long.

Peaking out of the foliage.
My Grape Hyacinths are getting ready to put on a great show. Some are showing some of their blooms already and others are just peaking out of their foliage. The ones I planted in the bowl for forcing aren't showing anything yet. I'm just guess their timers for blooming got set back from not having adequate light inside. Maybe they will put on a show after the others have started up.

Good Morning plants! Keep growing!