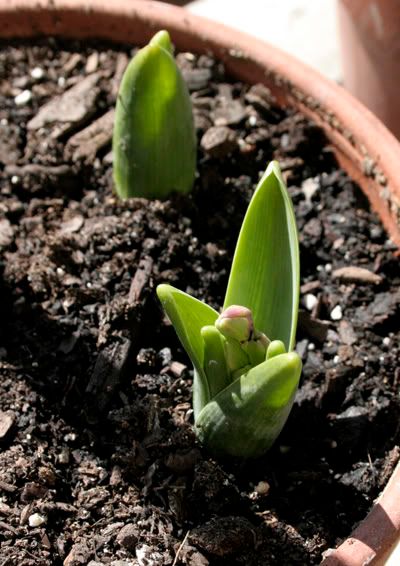 Hyacinth Woodstock
My hyacinth woodstock looks like it should be blooming soon. I orginally bought these to force indoors. The container I had didn't fit all the bulbs so half went outside. I planted 3 inside and 3 outside. The other one outside is in another container and is not as large as these. The ones inside are outside right now getting some sun.

Photo from www.dutchgardens.com
Woodstock Hyacinth is a fragrant hyacinth with burgundy purple blooms. Some vary from a deeper wine purple red to a light reddish purple. They grow 8-12" high and can be grown in sun to partial shade. This hyacinth would be great for forcing indoors with the wonderful fragrance. I can't wait to smell it when mine bloom. The Woodstock Hyacinth is also good for containers and borders. They are deer and rabbit resistant. Their blooms last 3-4 weeks in mid spring.