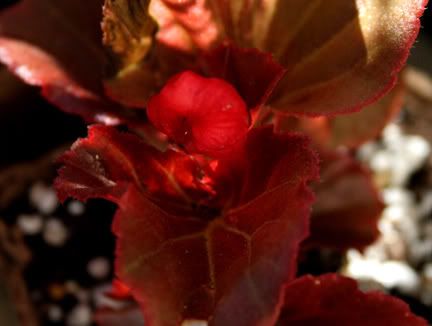 Cocktail Vodka Waxleaf Begonia
No I'm not talking about alcohol. Still can't drink but hubby can in a few weeks so he'll be my inside man! Anyways back to plants. A few months ago I purchase these wonderful Begonia plugs. It was love at first site with these (isn't it for everything?). The color the texture they were beautiful. Sadly I don't think I know how to take care of them properly. I had six, one died. I now have 4 outside as an experiment on what conditions they need. One is inside just in case all 4 outside die on me. The Cocktail Vodka Begonia that is inside is doing well. It is far darker and has more green in it's leaves. The ones outside are not fairing to well. One of the outside Begonia grew and has a tiny flower. They all have shriveled edges or burn spots. When they are in direct sun they get fried FAST. So I have 2 shaded and 2 receiving dappled sun. I also repotted them into better soil. They were first potted in a high peat mix and the peat got rock hard.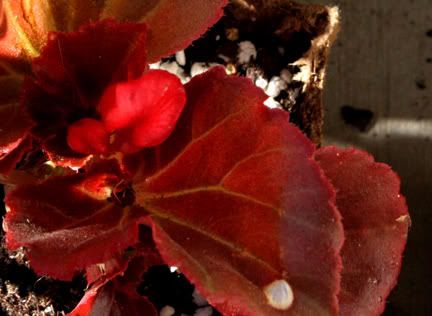 Cocktail Vodka Begonia originates from Brazil. They have fleshy rounded bronze wax like leafs and single rounded bright red flowers. It's a tender annual in most places but in it's natural zone 9-12 it is a perennial. Cocktail Vodka Begonia can be an indoor plant for those that don't have the right conditions for it. It's a fast grower when given the right right care. It needs moist (there is my problem) well drained soil with some to normal humidity. It likes light sun to shade (there is another problem). There is a 12" spread and 6-12" height.
This is my first begonia. I might just fall in love with begonias if these perk up for me. I love the leaves and the little flowers are just a bonus. When I originally got these I couldn't find much information on how to care for the particular plant just begonias in general. Maybe after knowing these facts they will live.