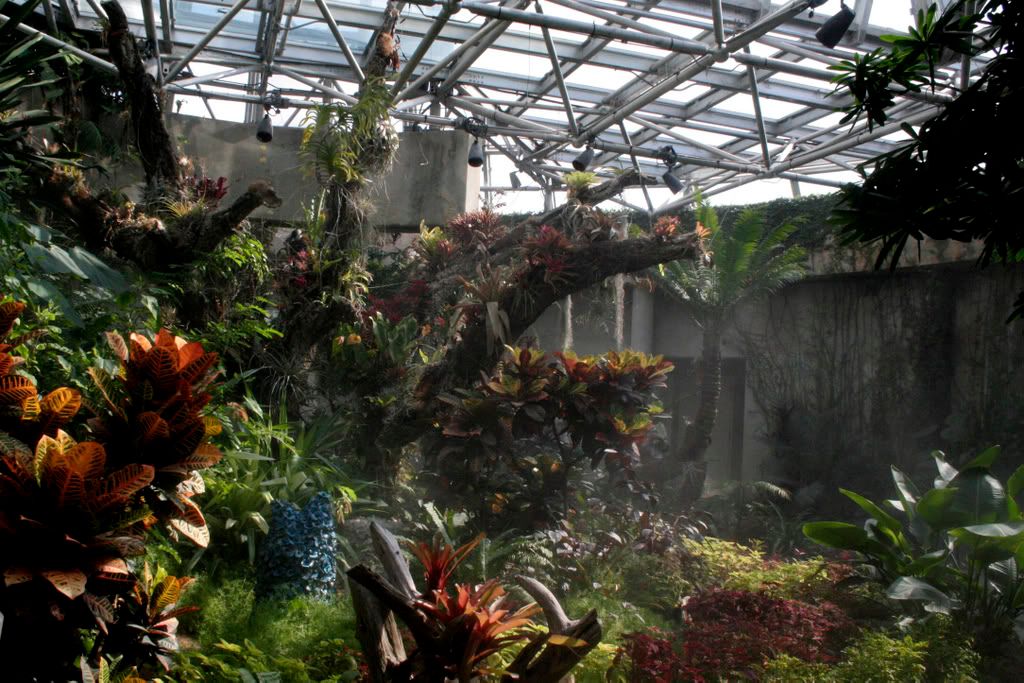 The exhibit room with bromeliads and so much more.
Saturday the husband and I went to the San Antonio Botanical Gardens so I could get started on volunteering. They were having a fall garden fair on Saturday. I thought that would be a good time to go walking around and just visiting the booths. Sadly I got rushed by bad husband who didn't want to be there because we have seen everything. Boo.

Some wonderful plants in Fern Grotto
Today I went down there to go volunteer. They thought I would be good to work with Beverly in the conservatory and green house. Today I went into the Fern Grotto to water and prune and beautify. I was excited because that is my favorite place. There is a waterfall over the wood pathway that goes into a pond. All around there are of course ferns, staghorn ferns. orchids, and many other plants I don't know names of. When I was done there I helped in the exhibit room where there were Bromeliads and aerial plants. I helped Yolanda for awhile picking off dead leaves of the Bromeliads and cleaning up the surrounding area.

Bromeliad
While on my break I met the women who takes care of the palms. I don't remember her name, I'm bad with names. She started talking to me about palms and these seeds/fruits she found that she never saw before. She went looking in a book and while looking talked to me about chocolate trees. The botanical gardens has a chocolate tree and it has pods in it. We were tempted to break some open but realized it wouldn't taste like chocolate anyways. I might just go in next time when she isn't looking and break a pod anyways just to see what it's like inside. Well she sent me on a mission to find out about those seeds/fruits since she couldn't find anything in the book. I told her she should look online but she's not computer literate. I am so I found out more info for her. I can't wait to show her what I found and see what she has to say.