There is a fellow apartment dweller who has hyacinth bean. Her vine is HUGE. I'm not sure if she planted it or if it just by her balcony. Every time I go by I can't tell if it's growing from a pot or not. I'm been admiring it whenever I pass by while walking the dog. Last month it was covered in flowers and fresh beans. I took 2 cuttings but both I don't think will make it. I've been keeping an eye out for the beans to dry so I can snatch some. And well....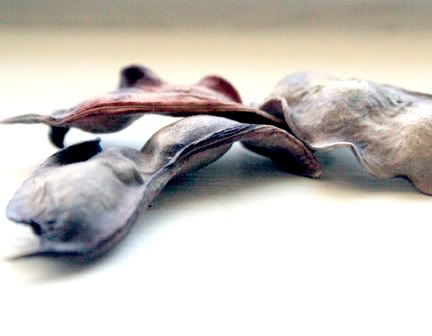 here are the pods all nice and dry. I took 3 since it's not my vine I feel guilty taking more.
Now I'm excited to try and plant my own. I have a goal to make my balcony covered in vines. I love vines and love the way they look when covering buildings. Currently the vines I have are corkscrew, Mt. Fuji morning glory, Dr. Ruppel clematis, coral vine, and I just got split personality morning glory seeds. So I'll have many vines climbing up and hopefully coving all the wire bar railing. I'm not sure if the clematis will make it but I'll be waiting for it to grow.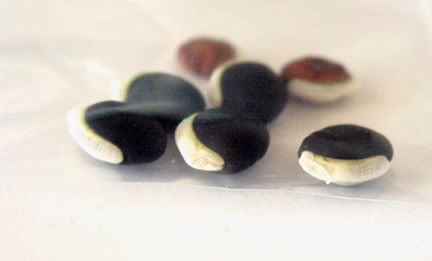 These are hyacinth bean seeds.
Hyacinth bean vine is a native to Texas. I'm hoping I can give it what it needs to thrive. I'll plant the seeds at the end of February.