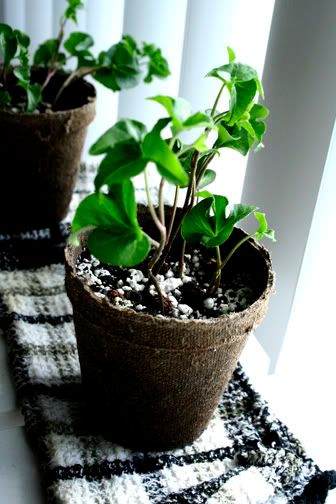 I'm surprised how my plants have started to take off. Everyday I see more growth. My evening prime rose has bloomed again by surprise. I'm really starting to like that weed. I'll save everyone another photo of it since I've posted some many in the previous posts.
Yesterday I bought my husband a Minerva Amaryllis. Funny how I say I bought my husband it because you know that I really wanted one for myself. But I put it on his computer desk for him to watch grow and flower. I don't normally get plants from Lowe's. Not that there is anything wrong with them. My ivies came from Lowe's and now this amaryllis. And for anyone wondering yes it is the one in the box but I am sure it will grow either way.
I'm supposed to be getting my box of 10 daylilies today. I'm nervous I don't know where I'm going to put them all. I need to go out and buy another planter since I know they won't all fit in what I have. Any planter sales around?
In an effort to make fall come faster I made a charm. I don't know what I'll use it for but I needed some fall in my life.