I didn't sow you Knotweed!
The mystery has been solved of the unknown seedling. I had thought it might be a petunia or a gazania since those were previously sowed in the same cells. Nope no luck with that. Instead as it got bigger it became very clear it was a Knotweed seedling. I didn't sow knotweed. I do have knotweed but have never tried to sow it. That is okay. I like the plant enough. Maybe I can sell it to someone or be lucky enough to be able to go to a plant exchange.

Rock Soapwort seedlings getting bigger
Not to long ago these little ones were tiny. Now they are getting close to being transplanted. I did thin out some and tried to stick them in some empty spots. We'll see if they actual take or die. I just can't thin out and not do something with those seedlings. I waited until they were kind of big so that way they would have a fighting chance to live on. But also I find that if I thin out my seedlings when they are really small and young. The one I keep dies...always. So I usually don't thin out at all and just separate them when they are transplanted.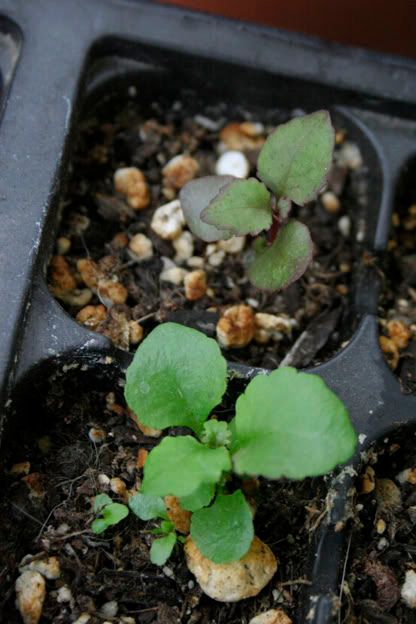 Lobelia seedlings
I'm in love with the lobelia seedlings. I just love the shape of their leaves. I thinned a few of these out also and transplanted the those that were plucked out. I can't wait to see these all grown up. I'm not sure why the seedling further back has a purplish tinge to it. I didn't look like that a few days ago.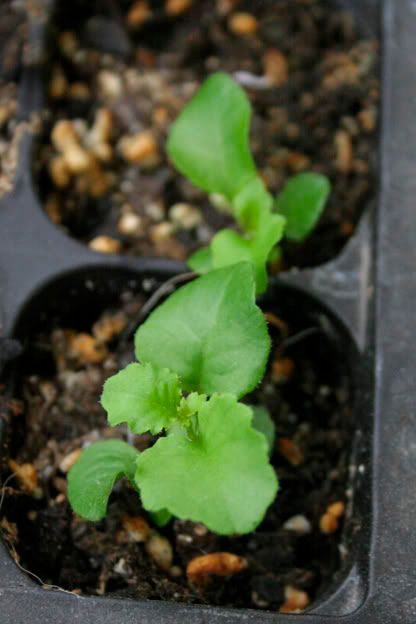 More Lobelia seedlings
I have a few more seedlings to update on, but I'll save that for next post. I don't like to cram everything into one long post. I know my attention span when it comes to reading is zilch. By the way there has still been no call back about the internship. I am about to call right now and see what is going on. I don't like not know what is going on. I'm sure they are just busy or something...who knows.