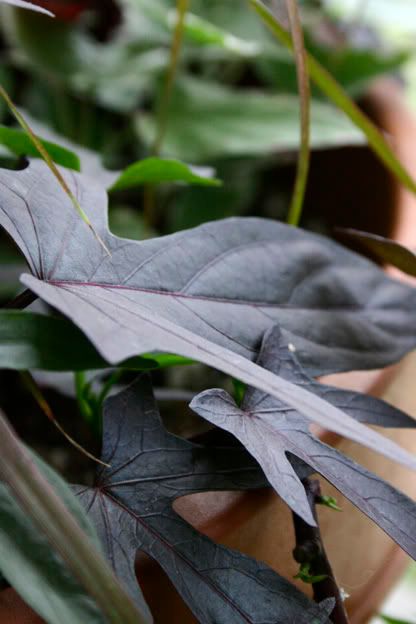 Black Sweet Potato VIne
I like getting up close to my plants. Seeing the mixed colors in the leaves and the texture is something special. Even though I'm not getting a degree in an art related field any more I still have an artistic eye. See my plants through the eyes of the camera really makes me see them better. I appreciate things that I normally wouldn't see. Macro are my favorite since every little detail is shown. I'm sure everyone has had those times that a bug shows up in your photo that you didn't even see was there.

Black Sweet Potato Vine
I like to try and get more abstract photos of my plants. Getting the abstract shots I see shapes and colors that I don't normally see just looking at the plant. When normally looking at the color of a plant you can name it's overall color like for blackie it's a dark purple near black. But once you get up close to it you see all the different colors mixed in like the red and the tinge of blue maybe even a tiny bit of orange in there. I personally have a hard time drawing and painting abstract. I like to do my artwork realistically. To make artwork of plants look realistic as possible you have to see all those underlying colors to get the full effect.

Variegated Sweet Potato Vine
As you can tell I'm having an art withdrawal. I haven't really painted or drawn anything for a very long time since school has been out. Art School was really draining for me that I took a year after I dropped out and just didn't draw but did crafts instead. I often everyday get those feelings when I see certain plants or take certain pictures that I want to pick up the paint and get going.

Purple Fountain Grass
It gets hard doing all the hobbies I like to do. Right now I'm devoting all my time to work, school, and learning more about plants. Really I procrastinate for most of my day with my face stuck to the computer screen. I need to learn to let go of the computer.
Anyone else out there have a bad addiction getting in the way of things they normally love to do?