Dimorphotheca African Moon all grown up.
I'm going to start with the big guys. This post is mainly for myself so I can have the dates down for my seeds in one place. Plus I'll give some information because I tend to forget after a while. The seedlings that were once small are now huge. The Dimorphotheca African Moon first seedling is huge. The others that were transplanted are getting there but not as big yet. Dimorphotheca aurantiaca African Moon likes dry areas and good for containers. It's an annual and attracts bees and butterflies. Also it self sows it's self and will flower in late spring/summer. Dimorphotheca aurantica likes full sun and will get around 12" tall.

Gaillardia Razzle Dazzle Mix all grown up.
The Gaillardia's are large now. They are the same size as the Dimorphotheca. The 2 or 3 pots are looking good but one is pot the Gaillardias are larger. They seems to like their section in the partial shadow of some pots. Gaillardia pulchellsa gets around 20" tall, likes full sun and hot areas, is good for containers and cut flowers.

Myrtle Spurge
My Myrtle Spurge is starting to get new leaves. I'm surprised I got the turn out I did from them. I wasn't expecting many or any seeds to sprout. For some reason I just thought that. Now I have around 7 seedlings. Euphorbia myrsinites likes full sun, likes it dry, gets around 12" tall or shorter, self seeds, blooms march - april, is a perennial, and is considered invasive in some areas. Planted in bonsai pots on 3-26-08 and sprouted on 3-30-08.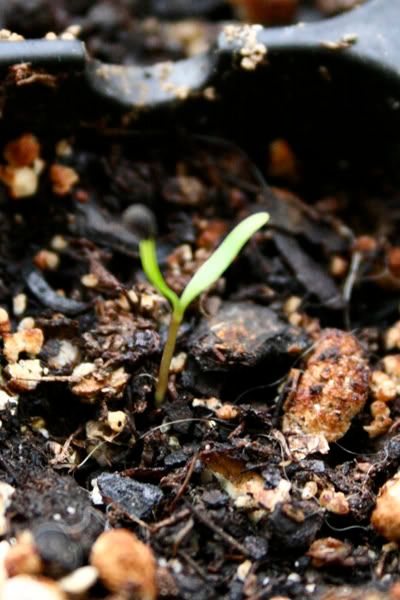 Rock Soapwort.
I purchased the Rock Soapwort because I wanted some trailing plants. I seemed to always pick the plants that are fillers and not thrillers or spillers. It took a while for the seeds to germinate but now there are 3 sprouts and probably more on the way. Saponaria ocymoides is a perennial that normally blooms in it's second year, it likes full sun to part shade. Good for rock gardens, hillsides, ground cover, containers, and hanging baskets. Saponaria ocymoides gets around 12" high or shorter, can withstand dry periods, likes light well drained soil, and reseeds. planted in flat on 3-28-08 and sprouted 4-7-08. Planted more on 4-6-08 has not yet sprouted.
I'll leave the rest for next time. This has taken me longer then I thought it would. Happy GTS!

Join
Gardeners, Plant and Nature lovers can join in every Sunday, visit
As the Garden Grows
for more information.