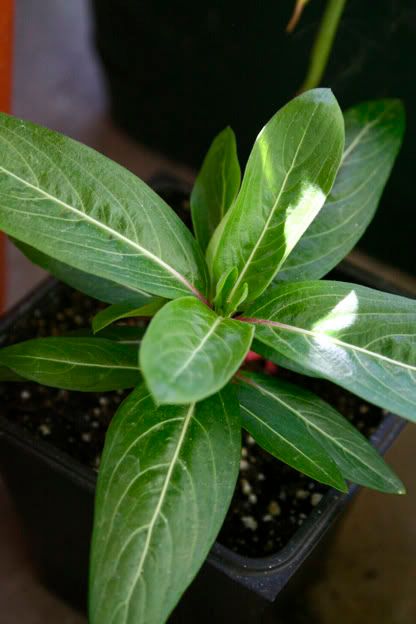 Catharanthus roseus (Thanks to Annie)
The school plant sale went by and many of the seeds and plugs we planted for the sale sold. Surprisingly there were many Laura Bush Petunias left but not many normal petunias. I personally like the Laura Bush Petunias more but that could be because I don't see them everyday at work. Last week for class the teacher let us take whatever left over plants were left that we grew. Well most of everything I had or would not do well on my balcony. Being the sucker I am for free stuff I grabbed a Catharanthus roseus. In my head I kept running threw the fact that Vinca does not like full sun. I thought, well there has to be a place where it will be okay maybe it does okay with part sun. I brought it home anyways knowing that it has a great chance of not surviving. I put it in the shade of the Cocktail Vodka Begonias. So far so good I can only hope it will like that spot because it's the only semi shaded spot there is. Then the wonderful Annie from the Transplantable Rose who lives in Austin kindly pointed out that it was not a vinca I had at all but instead a Catharanthus roseus (Madagascar Periwinkle) which likes full sun. Possibly my instincts knew that it would like full sun and that is why I took it home anyways. Well this makes me feel bad since at work I've been telling customers these do not do well in full sun but do great in shade. Shame on me.

Livewire Grass
I have been eying this little grass for a while. It gets about 8 to 10 inches tall and has this nice cascade to it. There was quite a bit left over but I just got myself one little 4" pot of it. At first I didn't like this grass but it's unique look has grown on me. I didn't take anything else because it was things I had and stuff that wouldn't survive with my conditions.