Juanita Hatten Bougainvillea alive and kicking.
Just not too long ago I was thinking of throwing out the stump of the Bougainvillea and potting something else in it's place. It had died back and was showing no sign of life. Now look at it! It's a whopping 11" tall.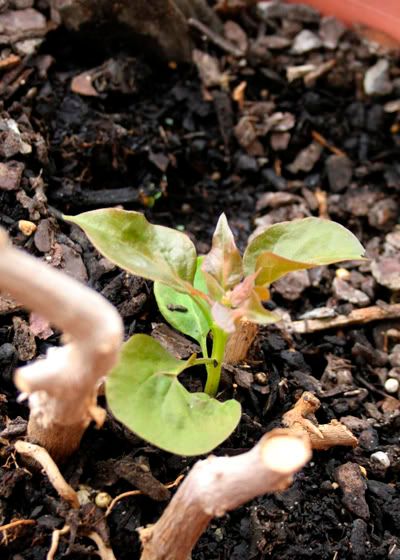 The Bougainvillea on March 31st.
At the end of March a sign of life arrived. I wasn't getting my hopes up in case something went wrong. There were actually two of these little guys growing at the base of the old wood. One of them fell off when I watered one day. Goes to show yet again that patience pays off. I'm always surprised how tough plants are. The moment I think that today is the day I will throw them away they awaken. Really I'm lucky because they don't normally come back here. Not sure what I did to make it live the very short winter. Others I spoke to lost theirs. I'm happy it's back, it makes a great show. If my Corkscrew Vines and Jasmine Vine reach where I want them to it will look stunning in this corner of the balcony. The bougainvillea will really stand out against the vine blooms.