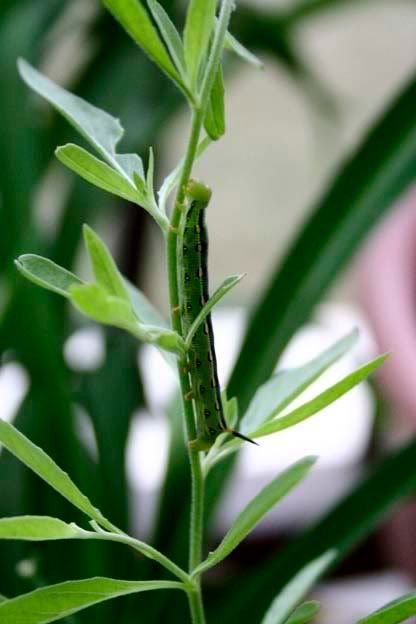 White Lined Sphinx Moth Caterpillar
I have been thinking of adding some plants that attract butterflies. Little did I know I had a host already for the white lines sphinx moth. Yes this little bugger ate half of my Evening Primrose! Really I'm not upset it's a weed/wildflower here but my husband plucked it for me so it means something. There wasn't only one but two of these little guys on my Primrose. I took one off a few days ago. Then another one appeared yesterday.
The White Lined Sphinx Moth is one of those hummingbird moths that can hover. They have a proboscis that they eat drink whatever nectar from. Their underwing is bright pink. The White Lined Sphinx Moth or Hawkmoth can be found in most of the USA. For pictures of the moth visit
Butterflies and Moths of North America
.
I might have to rethink this butterfly garden thing until I have a garden where the chewed up plants won't be as noticeable. Or avoid the hosts for the caterpillars.