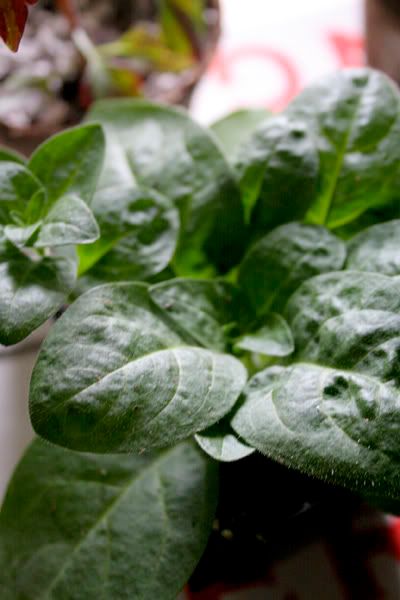 Laura Bush Petunia
I grew this Laura Bush Petunia from seed. This along with the Celosia were grown for my Herbaceous Plants class as a project. I now how to write a paper on the progress etc. Out of half a flat of seeds I only got 1 laura bush petunia and 1 celosia to make it. By the way the scientific name for the Laura Bush Petunia is Petunia x violacea.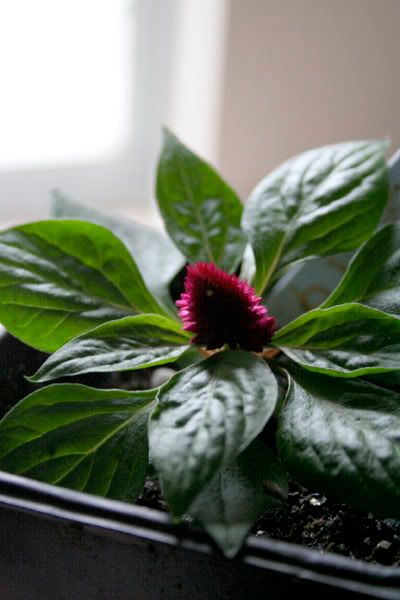 Celosia
Here is my Celosia. It even has a bloom on it already. I don't approve of how the school takes care of their plants. I would prefer they do it organically but they use chemicals which kind of made me wish they would try the organic methods at least. Even though I planted the seeds I really didn't do much else with these plants. This is what I disliked about the project because I would have like to have watered them and fertilized them myself. The helpers there don't always do a good job about watering things. I had quit a few seedlings of the Celosia and Laura Bush Petunias growing but my flat happened to be the one that the misting system dripped on. They also didn't water my flat enough because many of my seedlings just dried up. By the way I really don't like the look of the Cockscomb Celosia which is what I planted. I should have done a zinnia or gloriosa daisy instead.

White Petunia
These white petunias were planted from plugs that the school got. We got to each plant a flat or two and several hanging baskets of Petunias. I'm not sure what happened to my flat but it disappeared. So I took someone else's ...shame on me but I wanted at least one.

Red petunias in a hanging basket.
Red Petunias
This is one of the hanging baskets. This also is not my basket. I couldn't find mine in the crowd of baskets hanging overhead. I'm short and have a hard time. So I nabbed this one after asking of course.
Also for school I planted some impatient plugs and cocktail vodka begonia plugs. I didn't take any of those home for several reasons. Impatiens wouldn't live with the blazing sun of my balcony. I already have cocktail vodka begonias I don't need more.
Sadly now i have to write a report on how badly my seed venture went. It's upsetting because I plant seeds all the time and I do very well with their success at home. Other students had several and I was the only one with so few to survive. That's okay because I don't have a yard to plant them all in anyways. That is my excuse and I'm sticking to it.