Virginia Creeper Sphinx Moth
This morning when doing my balcony look around I saw this fellow. I know nothing about moths. A quick search lead me to believe it is a Virginia Creeper Sphinx Moth (Darapsa myron). I'm not really sure if it's alive or not since it's been where it is for many hours now and hasn't moved. Maybe that is a normal thing for a moth to do. It's funny how gardening opens your eyes to things you normally wouldn't notice. If I didn't garden I wouldn't bother looking up the name of the moth or even take a picture of it really. Now I get excited to see any good bugs show up on my balcony (I wish the spider mites and aphids would disappear though). I haven't seen any bees recently. Since all my grape hyacinths are past their prime the bees no longer visit. I have other flowering plants but maybe they just don't like them as much.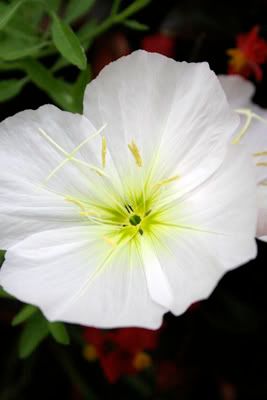 Evening Primrose
My Evening Primrose has been blooming. I love these flowers a lot. It's a wildflower around here but I actually haven't seen many like the one I have. What I have seen is the same thing Oenothera speciosa but mine doesn't even get as pink as the others around. My Evening Primrose stays white white and then when it wilts and curls up it gets a light pink. The others around by the highways and in the fields are pink very pink when they are open. I'm not sure why mine isn't as pink it's wild too and was plucked from the ground.

Hibiscus Rose
I had a nice display of 3 blooms of the Hibiscus Rose at the same time. It was nice to see. They have since fallen off and now only one is open with 2 more on the way. I love the color of the blooms. They really brighten up that corner of my balcony. I should maybe put them closer to the railing so all passerby can see. I need something tall to go in that corner and the Hibiscus fits the bill. Once my taller plants get growing like my bougainvillea and statice then there will be more interest. I still think I need even taller plants. I'm slowly trying to build my courage on getting taller plants. I'm a person who loves small things. 18 inches sounds like a lot to me but doesn't look like much from the walkways. I wish it wasn't getting too late to keep starting seeds. I just need to find seeds I can start in summer.