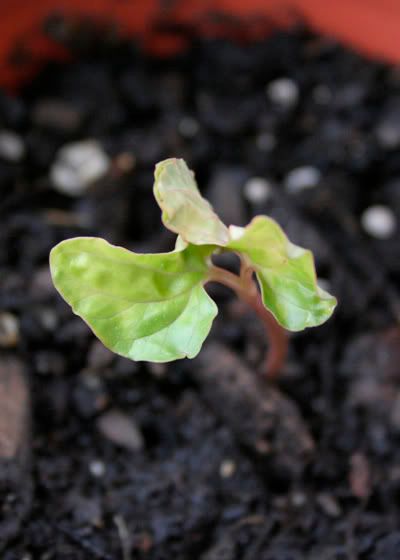 Mt Fuji Morning Glory
I planted many seeds on 3-28-08. There were new seed packets I bought and seed packets from the end of last year. I planted some seeds of seedlings that didn't make it over the winter and some that didn't germinate a few months ago.
The Mr Fuji Morning Glory I sowed popped up on 4-1-08. It only took a few days. I do have some growing but when they were inside something happened and they lost all their leaves. Since then they haven't really showed any sign of being good plants one day. Now I get to see what this new seedling will do. Hopefully it will fair better since it doesn't have to be inside.

Statice Sinuata Blend
My statice seedlings were the first of the new seeds to sprout. I'm excited one of my taller plants germinated. I have a habit of picking short plants for my balcony. That doesn't make a lot of interest so I made an effort to pick taller plants to grow. I've never heard of Statice or seen it. I'm not sure that I really like the appearance of the plant. All I know is that it is tall, drought tolerant, heat tolerant, likes full sun, good for cut flowers, and is a perennial here. I'm surprised so many germinated. I might have to do some trading of these extra plants.

Heavenly Angels Peony Poppy Mix
One little sprout has shown up of the Peony Poppy 4-2-08. I bought a mix that had a dark purple, white, pink, and red mix. I did grow these before but something happened to them inside while awaited the danger of frost to pass. They were doing good and growing well even though slowly then one day they just all dried up. I think they don't like to be disturbed. There were a few instances that the little peat pot fell over and the seedlings were disturbed.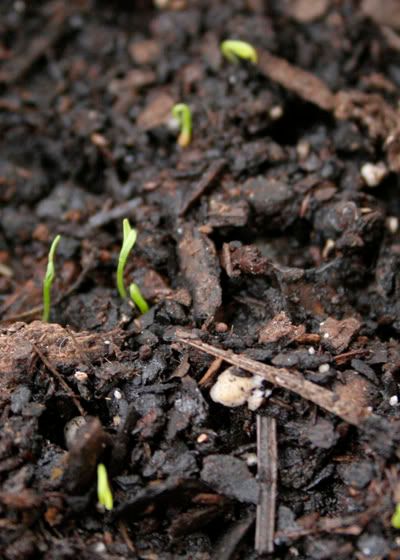 Venus Poppy
There are many sprouts of Venus Poppy 4-2-08. This is another one that did well but it didn't make it. Possibly for the same reasons of being tipped over and disturbed. Now that the Poppies have a nice home outside in pots that shouldn't be in danger they should do fine, hopefully.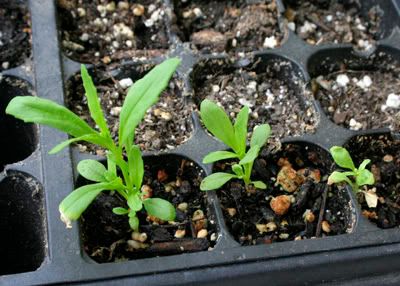 Nemesia Mello Red and White
This is strange. The Nemesia is doing well. The small seedling was actually the first to germinate. The largest seedling was the last one to germinate. I'm not sure what happened to have one grow so rapidly and the other not so much. The first to germinate also go really long and I'm not sure why.

Myrtle Spurge
Many of Myrtle Spurge seedlings came up. I'm excited to see how these transform into the grown plant. I never would have guessed that the seedlings would look like this. The Myrtle Spurge seeds were sown on 3-26-08 and sprouted 3-30-08
Other seeds that have germinated but don't have the pictures uploaded for:
Hare's Tail Grass- Sprouted on 4-3-08
Hyacinth Bean- planted on 3-27-08 and sprouted on 4-2-08...another seed planted on 4-2-08
Lavender Dwarf Hidcote- Sprouted on 4-4-08