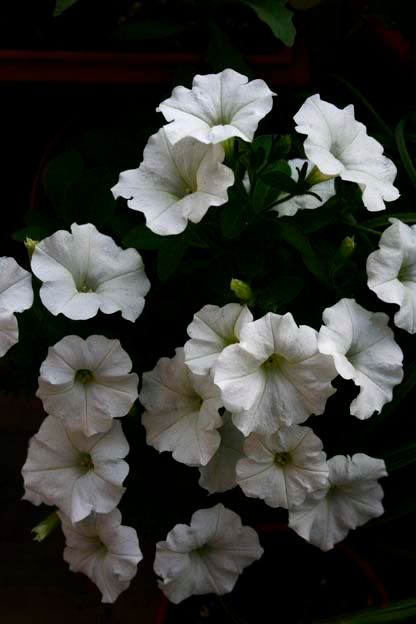 White Petunias
As tired as I am of Petunias I still love taking pictures of my white ones. They are just bursting with blooms and I hardly find any old ones to pick off. At work we get in tons of petunias. We have a whole table filled with wave petunias. Half of our six pack table is petunias. Our Petunias just don't do well at the stores because they either don't get watered enough don't get enough sun or get fried. Finally yesterday I could throw out some of those ugly Petunias. We had gotten a load of six packs in with no where to put them. The Petunias just weren't selling any more. My boss just said throw out the uglies and the ones no longer flowering. Now that the Petunias are gone I don't feel so much hate towards them any more. Now my new found hate is Celosia. We have tons of six pack Celosia. I put around 12 flats under the six pack table and then converted half of the 4 inch table for some more flats of six packs. Why did we get so many, no one really likes them here because everyone just complains how leggy and gross they look later on?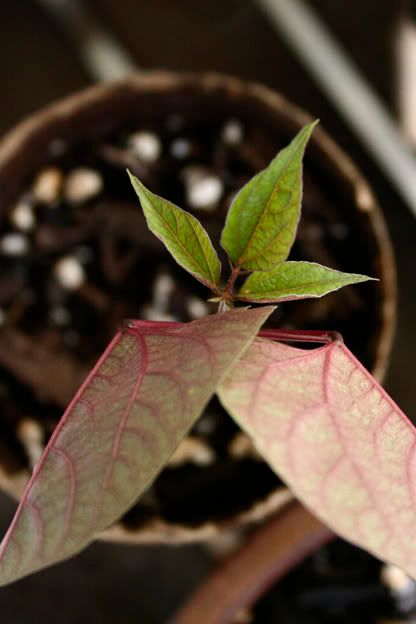 Hyacinth Bean Vine New Leaves
My Hyacinth Bean Vines have got some nice new leaves growing. I'm patiently waiting for them to get taller so I can pot them in a bigger planter and start their way on the trellis. I need to figure a way to keep the trellis up. I'm sure I'll figure something out but any ideas are welcome. I have it up against the siding of the building so I'm not sure I can stick anything to the wall really. I'll deal with that at another time. I gave my boss the rest of my hyacinth bean seeds because he moved into a new house and lost his other ones. There would be no way I could have any more vines on my balcony. I have 2 corkscrew vines, a clematis, jasmine, and maybe the bougainvillea if I want it that way. I'm pushing my vine limit. The clematis has kind of halted for the past month and hasn't gotten any bigger or any new leaves. I'm wondering if it will stay this way or if it's just warming up.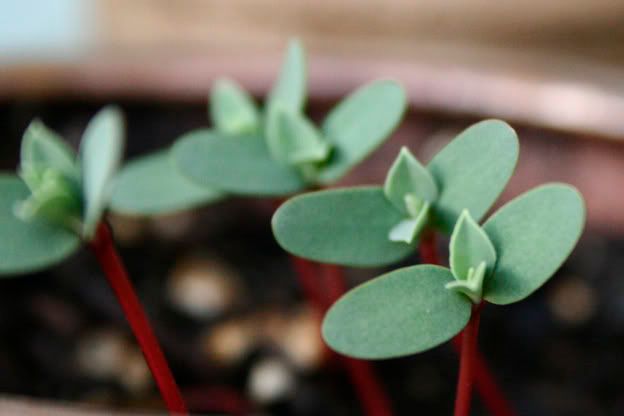 Myrtle Spurge
I love to look at the Myrtle Spurge seedlings. Their new leaves make them look like they are screaming. I'm surprised I like them so far since I really didn't want to plant them at all. I've been searching for some sedum because I feel like the only gardener that does not have one. There are some at work but not that I like. I just might have to resort to an internet purchase if I don't find anything at the local nurseries. They must have some because they carry a lot of wonderful unique plants.