Today was the best day I could possibly have. I got my paycheck today. We all know what that means, right? Paycheck day means I get to go buy everything I have been meaning to buy for 2 weeks but had not money to buy. I made my list of all that I needed. The list consisted of many pots in different shapes and sizes but terra cotta color, fish emulsion, and seeds. I've been feeling like my balcony could use some more plants. My husband would not agree with that statement but he really doesn't care. It was a plan today to go to the park and walk around with Kasha our dog. On the way there I just wanted to pick up my garden items to save some gas.

First stop was Family Dollar. Now anyone that has one go check yours out for some nice plastic pots and hanging baskets. I got 2 small rectangular pots for $1 each and a square pot for $1 also. I should have gotten the other larger round pots that were $2 but I thought that the garden center had them cheaper (I was wrong). Left Family Dollar with 3 pots for $3 and a few cents.

Then to the garden center. I quickly ran in and headed to the pots. Sadly they only had three 4" plastic pots. I picked up the three 4" pots a 6" and 10". Then a 6" and two 4" but ceramic. Then over I ran to the fish emulsion, gah 8.99. I'm a cheapy that 8.99 seems expensive to me. I turned around to the other wall and quickly picked out seeds. I normally always get the Ferry Morse seeds just because they are cheaper. This time I got some Botanical Interest seeds also because they had some varieties I wanted and tons of information. I dislike Ferry Morse because they don't have really any information on the plant just how to plant them. It was nice to open the Botanical Interests seed packets and have tons of information on the inside that I could ever ask. I picked out my seeds and checked out. I'll tell you the seeds a little later in the post.

Off to the park we went. Me and my husband hadn't been to this park. I really wanted to go bike riding. Sadly my husbands car is out of commission for the moment. We always hook up the bike holder to his car because it scratches really badly and his car is old. My car is new 2005 and it will not get scratched. Anyways we went walking instead and brought Kasha with us. I was in a hurry because of her. She's not a fan of the car and squeaks and just is very uncomfortable. We walked for quite awhile. This has been the first time in a long while that my husband and I have gone to a park. When we lived in New Hampshire that is what we always did. We'd walk around and bike at the state parks. Sadly the ones here don't have beaches or lakes...at least not the ones close by. It was fun anyways without the water. Many trees and winding paths. There were tons of mountain laurels. I could smell them when they were coming up before I could even see them. My husband was uninterested of course. He'd yell at me to keep walking because I'd always stop to smell and admire the flowers when I saw one.

Now to my seed purchases. I know it's probably getting late to plant seeds here. That sounds strange since I know many people further north haven't been able to start all their seeds. Our last frost date is March 15-24 or somewhere around that. Many of the seed packets say sow how ever many weeks before last frost date...oh well. I'm sure it will be okay. If things don't work out well I'll learn from my mistakes.


Lobelia Crystal Palace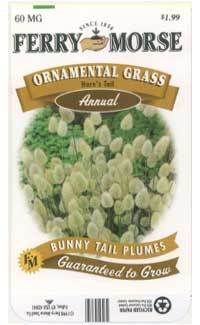 Hare's Tail Ornamental Grass

Rock Soapwort

Lavender English Dwarf Hidcote

Statice Sinuata Blend
Those were all the great seeds that I purchased. I needed some spreading plants and some tall plants for my containers. Even though I'm sure my containers will probably only be one plant each as they mostly always are. When I got home I went straight to planting and transplanting and repotting. I repotted the hibiscus. I had a feeling it was really root bound and I was right. This time I was patient and let it get used to my balcony before transplanting it right away. It was a struggle to get it out of it's container. After that I took out some stock seedlings from the stock and bijou sweet pea pot. There were too many in the container so I put 4 in a container of their own. Then the parsley big mountain and the dimorphotheca african moon were transplanted into their own rectangular pots. I planted some poppy venus and some heavenly angels mix peony poppy seeds in their own 4 inch containers. I put a seed of the lt blue mt fuji morning glory in a 4 inch pot since the others aren't really fairing well like I had hoped. The Lavender english dwarf hidcote went into it's own 6 inch pot. The rest of the seeds were planted in the tray that I have been growing seeds in. I had a caladium bulb that I bough a month or so ago. The caladium bulb was planted in the square planter and put right beside my computer. The ghost plants were thrown out since they were not doing well and I just didn't like them. The nice caladium is replacing the ugly ghost plants. Hopefully the caladium likes it's home by me and the computer.
What a busy day it was. I noticed that my myrtle spurge was starting to come up in one of the pots. Hopefully it comes up in the other pot too. No sign of the hyacinth bean coming up that I planted a few days ago after the spurge.