Hibiscus Rose
Over the past few days some new blooms have been appearing. I previously showed the pansy and it's bloom bloom. I have been awaiting for the Hibiscus to bloom. There are several buds on the Hibiscus but one was really rearing to go. Today I awoke to a wonderful site. The Hibiscus had bloomed and I finally got to see what it's flower looks like. It is gorgeous and you can see. I never really inspected a hibiscus bloom up close. Very beautiful and I love the color. I noticed that many things that are bloom on that half of my balcony are the same pink color. The snapdragon, the armeria, and the Hibiscus all with pink blooms. That's a sign I need to chose other flower colors.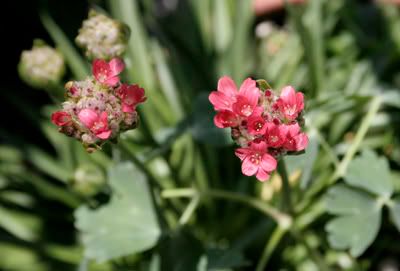 Armeria Joystick Mix
The Armeria is starting to bloom. I thought this was supposed to be a mix what happened? So much for that looks like I'll be getting mainly pink blooms. I've never seen an Armeria so didn't really know what to expect from the plant. The foliage is very interesting and grass like . The blooms so far look to be very interesting. I like them so far even though they aren't fully open in all their glory.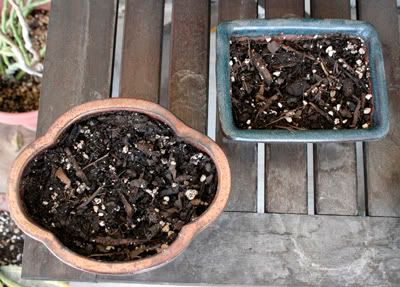 Myrtle Spurge seeds have been planted.
Since my peruvian myrtle died on me I had one empty bonsai pot and another one I got to use. Well I don't see myself ordering any little shohin size trees to try again any time soon so I might as well use the containers for something. With all the posts I have read lately about Myrtle Spurge/Donkeytail I just couldn't help myself. I had purchased seeds at the end of last year. After I got them I did really want to have the plant anymore. Now I'm re-convinced that I can live with it. I planted them in the bonsai pots and hope for the best. I have no idea if they will survive in these shallow pots but I'm sure I can always repot them later. Lets see if anything sprouts. Remember I have good luck with planting seeds in pots and not flats. Now I probably jinxed myself and nothing will grow from pots ever again.