Dr. Ruppel Clematis
Peek-a-Boo! Yesterday when I was examining my clematis for new growth this is what I found. I was wondering why nothing new had grown recently. It had been growing just not where I could see. The clematis is coming out from the dianthus pinnochio mix. It was a nice surprise to find and assures me it likes it's home.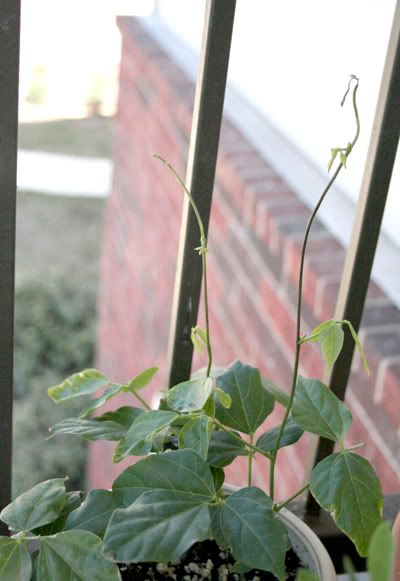 Corkscrew Vine reaching up
I'm been mesmerized with my corkscrew vine. It is finally starting to look like a vine now. The vines keep on trying to twirl into each other and I keep separating them and trying to stick them onto the bars. They got a little frost bitten on the weekend. The leaves got a bit tattered and the tips of the vines. It didn't effect them because they are still happily growing up and up. I do hope they continue this way. The corkscrew vine is my balcony garden weakling. It's been hard to get this one healthy after a battle with some sickness. My other corkscrew vines are having issues and don't seem to want to green up. They are pale and I'm not sure what is wrong. Maybe I just need to fertilize them. I'll just let nature take it's course like it did with these now green and growing ones.