Sprouts of Phlox or Dusty Miller
My seedlings are growing and everyday new ones appear. I planted a mix of phlox and dusty miller in this planter. I'm still leaning towards these being phlox and not dusty miller. Even if the dusty miller does not germinate I will be happy. The dusty miller seeds I bought from
Value Seeds
so the .99 cents they cost won't make me feel sad. I love to get seeds from Value Seeds because they are just Thompson and Morgan seeds but greatly discounted. There aren't many choices but I usually find a few things I want. There are many of my plants growing really fast now. One of my corkscrew vine has started to grow like crazy over the past two days. That is a great sign because I really want the Corckscrew Vine to grow. The grape hyacinths are mostly all up and blooming now. They area welcome scene to my mostly green. Plus the bees have really started to show interest in them. That make me feel great when some beneficial insects are coming to my little corner. My spearmint is growing well now and will probably start to grow like a weed soon it seems. The columbine, armeria, and the bellflower are doing well. Mainly the columbine has been growing the most.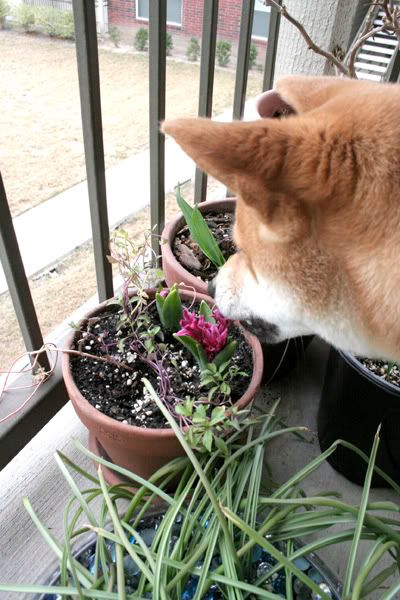 Kasha being mean and biting my plants.
Yesterday when I was taking photos as I normally do my dog Kasha decided she wanted to be a bad girl. While taking my photos she wanted to get in the way. Not only get in the way but try to bite anything I was taking a photo of. The picture above is her trying to bite my hyacinth. She did it for pretty much everything. Then she finally stopped to smell the mint and grape hyacinth.
Green Thumb Sunday

Join
Gardeners, Plant and Nature lovers can join in every Sunday, visit
As the Garden Grows
for more information.