Parsley Seedling
My Parsley seedlings are finally getting bigger faster. It always worries me when my seedlings take a long time to grow up. I'm always in fear that they will stay that size forever or shrink back to the ground. Once they take off they grow in light speeds. These were shrimps forever and then slowly got their curly leaves. Now everyday they are bigger and bigger. I went to Family Dollar with Hubby to pick up some toilet paper and saw they had some plant containers. Of course I'm excited because I am a cheapy. Sorry frugal me and I have no money. 64 dollars to be exact is what I have. There is not shame in that I swear. Anyways they had these cute rectangular planters that were small about 8 inches by 3 or 4 inches. The first thing that popped in my head that I could plant in this was my Parsley. So I will be going back tomorrow and getting me some rectangular plants and of course the bigger round ones. I used to be one that loved the terracotta pots and wanted nothing else. Well after having to water those 2-3 times a day when it gets hot I don't like them any more. The plastic ones keep my plants from having to be water multiple times a day. I don't mind watering multiple times a day but sometimes I just can't do that. There is nothing more stressful then having to go to work or school, but all I can think about is how this plant and this plant really needs water right now and will be wilted by the time I get home.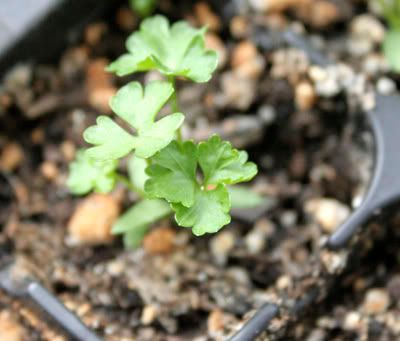 Another Parsley seedling
Now I have been trying to keep my containers slightly unified. I had to change from terracotta to plastic. I accidentally have some green planters, a few black ones, and some white ones. The rest are terracotta colored but they are plastic. I do have a ceramic white one but it fits well with the plastics. Now I'm trying to keep it all terracotta but the black ones really kind of stick out. I'd like to say I should just get rid of them.They probably heat up the soil way more then it already gets heated up to begin with. Maybe I'll get the guts to just take them out and maybe use them for indoor plants instead. Yeah that is a great idea!
P.S. If you have a family dollar those pots were, well a dollar. I'm not sure what the others were priced. There were some nice ceramic pots too that said 5.99. I'm not sure if the ceramic was for 1 pot or for the pots stacked inside too. Anyways if you are a cheapy also go take a look.