The one Pansy Flower.
The Pansy has a flower. It is slowly opening up. My hubby is excited because these are "his" pansies. He picked out the seed packet but his first sow didn't work. I sowed him some more and here they are grown and starting to flower.

Bougainvillea sprout?
I really want to throw the Bougainvillea out. It died back this winter. I didn't bring it inside hoping that it would have done okay. For a few months I waited for some buds or something. Nothing happened so I scratched the bark and it was not green. I cut it back and was about to toss it till I saw this growth. Does this mean it is still alive and will grow well this year? Any Bougainvillea growers give me advice. To trash or to keep.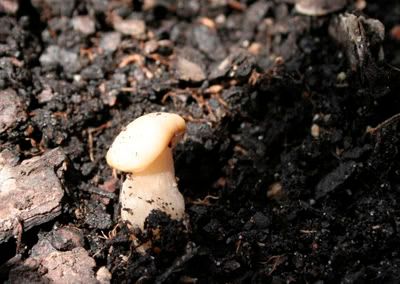 A mushroom
Next to the Bougainvillea growth I spotted something white. I couldn't tell what it was from where I was looking. So I touched it...it felt hard. I yanked it out and discovered it was a mushroom. For some reason I was excited and showed my husband and my dog. Then I went ahead and put it back in the pot. Yeah I'm not sure why I'm keeping it. It's my first mushroom give me a break.

Join
Gardeners, Plant and Nature lovers can join in every Sunday, visit
As the Garden Grows
for more information.