Gaillardia Razzle Dazzle Mix seedlings
My seedlings have been coming along. It's been almost a month now since they have been planted. I really should get the bigger ones out of there and into something bigger. I only have 4 pots, 3 small 4 inch, and one 6 or 8 inch. Really that should be enough to pot what I have. I'm thinking I'll do that in a bit and see how it goes.

Dimorphotheca seedlings
My African Daisies (Dimorphotheca aurantiaca) are doing great. I got the one big seedling that has been growing for 1 month now. A week ago I believe I planted some more. The one seedling was the only one that germinated so I decided to try again. This time I followed what I read online and just very slightly covered them so they wouldn't get blown away. Now I have many more seedlings popping up and getting ready to grow. The first time I planted them I think I stuck them in too deep.

Nemesia seedling
The Nemesia is growing slowly. I have 3 seedlings of Nemesia. One seedling is quite elongated and I'm not sure why. Maybe it just needs to go into a bigger pot but it's not that big. It looks like the one pictured but with a longer stem on it.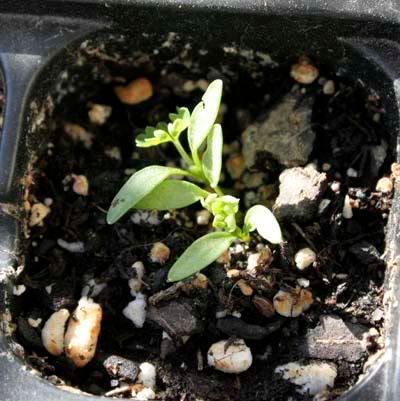 Parsley seedlings
My Parsley seedlings have their true leaves now. They are funny frilly edged leaves. I'm glad that I got these as a freebie. I love parsley and use it constantly on my pasta. Pasta just doesn't taste right if it doesn't have parsley. I hope that these do well once the heat and sun get going.

Laurentia seedlings
Never did anything come from the first batch of laurentia I planted. I tried again when I replanted the Dimorphotheca seeds. There are two little seedlings in this one plug. None of the other have come out. I'll try again another month when it gets warmer.

Join
Gardeners, Plant and Nature lovers can join in every Sunday, visit
As the Garden Grows
for more information.